Mandi Kristjan Snorrason:  
http://czechinthekitchen.com/2018/12/09/wolfgangs-roasted-fish-with-caper-herb-beurre-blanc/amp/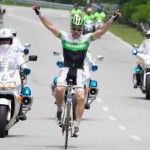 Snozza has been a coach since 1996, working with Triathletes & Cyclists across all distances, disciplines and Nationalities. He holds a diploma in Strength & Conditioning, Personal Training certifications & Level One Coaching qualifications.
In the saddle, he raced for several years on pro teams in Europe, in particular Selle-Italia & Matestica-Aboboda racing across Europe and throughout the USA and Asia. He was the 2001 Australian Time Trial Champion.  He retired from professional cycling with five UCI victories to his name.
In recent years he has returned to racing with the Cannasia Cycling Team back winning in first road race he had ridden in 10 years! He continues to race on the road, on the trails and somewhere in-between on his cross bikes.
Snozza has also a ton of experience on the other side of the fence, with over 20 years experience in event management – ranging from countless of triathlons, MTB races and road cycling criteriums. He was employed by the Melbourne 2006 Commonwealth Games to manage the MTB Races, followed by the 2006 Asian Games in Doha, where he was the Venue Manager for the Road Events (cycling, marathon, triathlon).